Bay Area Blog of the Week # 30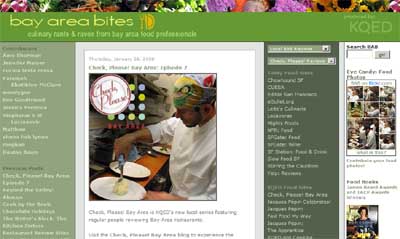 Today's featured food blog, is the KQED sponsored site, Bay Area Bites that features many of the food bloggers you may already be familiar with. Jen, Shuna, Amy, Laura, Fatemeh and Stephanie to name a few.

The reason I am featuring it this week is because Jen Maiser wrote extremely useful posts summarizing

Restaurant Review Sites in San Francisco

. They are a great reference. When somebody at work, yesterday, asked me for restaurant review site recommendations I was simply able to point them in the direction of Jen's roundup. If you are confused about all the options available to you when looking for restaurant information online, be sure to check out these two posts:

1) MouthfulsFood.com, Egullet and Craigslist

2) Chowhound, Yelp and Citysearch

MouthfulsFood.com is the only truly local option amongst these sites, so Jen's posts will be equally relevant to those in other parts of the US too.

When looking for restaurant information online, don't forget to check the blogs collective as well. I often to a google search using a restaurant name + city + blog formula which does a good job of searching for bloggers' reviews.




PS - I am now working six day weeks and overtime so please forgive me as your emails go unanswered, I ignore your meme tags and don't enter your blogging events. It doesn't mean I don't care, I really do, I am just struggling to honour all of my commitments at the moment. Thank you for your patience and understanding over the next couple of months.

Links, Resources and Further Reading

MouthfulsFood.com
Egullet
Craigslist
Chowhound
Yelp
Citysearch

Daily weight loss, weightwatchers and diet notes:
The reason I chose Weightwatchers # 1: It's a diet that has no restrictions. If you follow the Flex plan you can eat anything you like. Diets that enforce denial induce cravings. But with Weightwatchers, nothing is denied, so if you crave something you can indulge without guilt and still lose weight.



Food
|
Blogging
|
Bay Area
|
San Francisco
|
Food blog
Bay Area Blog of the Week # 30