Your Last Chance
To Make a Little Difference in the World...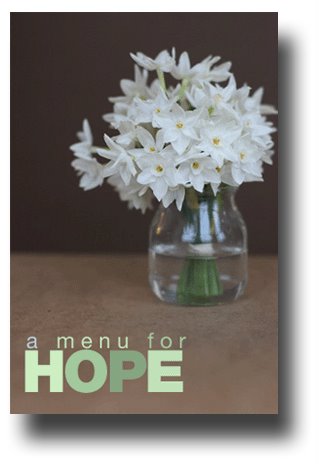 ...and win some fabulous food prizes. Today we are giving one last push to our Menu For Hope Campaign which is raising money for Unicef to help victims in stricken areas of Pakistan and India.

Consider how much a year's subscription to a food magazine can cost these days: $30 or $40. Collectively, food blogs the world over can give as pleasure as any food magazine. Recipes are searchable, updates are more often than once a month, the photographs can be just as mouthwatering and professional-looking, restaurant news is more up-to-date and the degrees of specialisation about all aspects of food are manifold. If you read food blogs regularly and are going to continue to do so in 2006, please consider making a donation, today, to the cause we are supporting. If you can, please donate whatever our community is worth to you, in lieu of there being a subscription to read what we write. Any amount, from $5 up, will not only make a difference in someone's life, it will also give you a chance to win a great prize. The choice is yours:

In the Bay Area Becks & Posh are offering two prize packages that will knock your socks off. Check out The Ferry Building Bonanza and The Hungry Bay Hopper. For readers further afield, why not bid on the chance to win a bunch of local food books including one from Thomas Keller.

Head over to the organizer's site Chez Pim, for more details, or check out the full round up of prizes, here on Becks & Posh. Thank you very much, everyone, for all your support over the last year, I hope to serve you as well in 2006.




PS Fiji Fridays will return in 2006.


Food
|
Unicef
|
Menu for Hope 2
|
San Francisco
|
Bay Area
Your Last Chance