To keep you occupied, whilst we are gone...
No cooking for us this weekend - we are moving house. It's unlikely we'll have internet access for a few days, so until we are back online, we'll leave you with a little food quiz. Please bear with us, we'll be back very soon to bombard you with all sorts of new posts about your favourite subject, food!
1- what is the name of the style of pasta used in this dish and how does it translate from Italian into English?

Orrechietti - little ears
2- What is this?

It's a Petit Suisse
3- Which teahouse, in which city?
Laduree, Paris.
4- A trick question? What do the French call this?
It's not a croquembouche, it's a Piece Monte
5- The general, common, slang name for this type of dish, in English, is?
Bangers'n'Mash innit?!
6- Where are we?

Cafe Bastille, Belden Alley, San Francisco.
7- With which free photo managing software can you achieve an effect like this one quickly and easily?
Picasa
8- What are these cookies called? Bonus point for knowing their less illustrious sounding British schoolkid nickname.
Garibaldis or "Squashed Flies"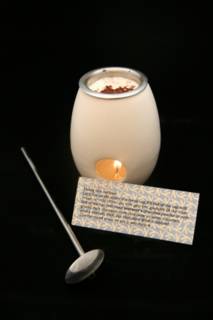 9- What is this hot chocolate making device called?

Its a called a Suckao
10- Food from the gods? An American sweet...it's name?
Divinity
11- What type of cookie is this one?
Peanut Butter.
12- In which vibrant San Francisco district were these pictures taken?
The Mission
13- Which famous cookbook did I use to make this recipe?
The French Laundry Cookbook
14- What do you think these are?

Mini Yorkshire Puddings, yum!
15- How did I achieve the lighting effect in this photo of Turkish Delight?
The answer to this may be forthcoming, or maybe I'll just leave it "magical" as one commentor suggested I should. We'll see... thanks for playing everyone!
There are no prizes, it's just a bit of fun. Leave any guesses you have in the Comments section. I'll publish the correct answers when we resurface from under a pile of boxes. See you next week! To keep you occupied, whilst we are gone...