a-Ring-a-Ring-of-Rosés
Join me on a round up of World Wine Blogging Wednesday 9th edition, in which gobal wine enthusiasts tasted Rosés and shared their tasting notes online. 41 bottles were opened, two of which remain in the fridge unloved and rejected. Most people, however, have been pleasantly suprised that rosés can, in fact, be quite something. Even the guys who thought they might prefer to never be seen drinking something so rosy, have softened and come round to my pink way of thinking!
Here you will find good and not-so-good reviews of Rosé wines from many different countries (France and the UA being the most popular) without a single mention of Mateus or White Zinfandel. This post should be your first stop if you are wondering
which rose should I buy
?
Starting with the Sparklers
The Caveman
had me longing for a glass of bubbly when he described the end result of drinking
Bugey Cerdon, Méthode ancestrale, Raphael Bartucci
as
demi-sec bliss
.
Culinary Fool
made a smart move when she chose to taste a
1999 Argyle Brut Rosé
to accompany of spot of dining al fresco. Join her for a Sunday afternoon accented with a
rush of sweet, summer cherries
.
I like the
Kitchen Queens
. I have a feeling they know how to live very well. But why didn't they invite me around to join them? Don't they know that
Billecart-Salmon Brut Rosé
is one of
my favourite
champagnes?
I apologize profusely to Rachael and her
Fresh Approach Cooking
for originally ommitting the description of her romance with a bottle of
Sterling Family's 1998 Iron Horse Vineyards Brut Rose
. How could I possibly have missed a wine she describes as
stupendous, delicious and extra girly to drink
, [earning]
five air kisses out of five
.
Argentina
mā'ona
is Hawaiian for 'satisfied after eating; to eat one's fill'. When it comes to drinking, Alan admits this
2004 Crios de Susana Balbo Rosé of Malbec
is nothing to be ashamed about either.
Staying in South America the choice for both Sarah at
The Delicious Life
and
The Budget Sommelier
was the
2004 Vida Organica Malbec Rose from Familia Zuccardi
purchased at Wholefoods. One of them declares I
don't think you'll find a more summery, refreshing rosé that actually has some character to it for this value price
whilst the other was less keen, admitting
half the bottle is still sitting *for shame, for shame* on the top shelf of my fridge
.
Australia
Down in Oz,
Eat Stuff
have actually been drinking for a change. And two bottles, nonetheless. They liked the
Jacobs Creek Shiraz Rose Vintage 2004
more than the
Wolf Blass Eaglehawk 2004
, reminding us all that in the Southern Hemisphere it's nearer the end, than the start, of the Rosé Season.
Appellation Australia
tried the
Charles Melton "Rose of Virginia" 2004
and then described it as a
great wine to take chilled on a picnic or to have with slightly spicy Asian food
.
Austria
The Caveman's
second wine today is a sweet one he recommends pairing with chocolate.
Zweigelt Rosé 1998, TBA, Nouvelle Vague, Kracher
is a little on the pricey side. Because he describes it as
truly bizarre and burnt bar-b-q chicken with an unctuous texture
, I am not sure it will be one of my own future investments.
France
Bill of the
WLW-WineGeek.com
blog tasted a
Mas des Bressades Costières de Nimes 2004
of which he remarked,
upon the first taste, my mind immediately raced to the words "wine cooler
."
Based in Canada,
The Caveman's
third and final offering for this global wine tasting was a
Coteaux-du-languedoc 2004, Pic St-Loup, Château de Lancyre
which he recommends
simmering with shallots and herbs
. Visit his site to see why.
Over in
Cafe Benjata
they have been drinking a bottle of
2002 Domaine Tempier Bandol Rose
. Whilst just the thought of it reminds me of last Summer in Provence, at the Cafe Benjata it
demands garlic and anchovy butter and fresh herbs
…
From
Oswego Tea
in Germany we have another French choice, the Chateau La Commanderie de Queyret Bordeaux Rosé 2003. Michele explains
I am new to Rosé, and the flavour of this one did not strike me at all.
Can I take all the credit for helping Mia at
Nosh
discover
Domaine du Gouyat 2004 Bergerac Rosé
which she describes as
possibly one of the best wines I have ever tasted
? Aw, go on, let me...
Meg, in Paris, is one of
Too Many Chefs
who chose to drink a
Cuvée Lou Coutri
for this WBW, finding it
dry, with a little bit of a berry depth.
Meg summarises her attitude to rosés just like I might:
Gone are the days when it just meant a sweet drink for teenagers and maiden ladies unused to proper wine. Let's hear it for pink power!
Another wine drinker who transports me back to Provence is
Marta
who sends us a Postcard from Tavel. Her choice of
Chateau de Trinquevedel Rosé 2002
felt, she said,
like summer
.
Christian over at
Turn The Screw
tried the seductive sounding
Oriel 'Femme Fatale' Bordeaux Rosé 2003
. He concludes,
definitley not what I envision straight-away when thinking of rosé, but most certainly an interesting alternative to the Provençal standard that I love and sell
.
Lady Amalthea, a New Yorker in Paris with a blog called
Noshes, Thoughts & Reves
preferred her bottle of c
lean, crisp, slightly sweet and
[with]
almost no aftertaste
the
Domaine de la Berthete Cotes du Rhone Rosé
, as an apperetif, before dinner.
What is a
Winecast
? Well, it is a Wine Podcast. What is a podcast? An online audio programme. Thankfully Tim wrote some notes to help me with the round up (because I am not sure that in my WBW hosting contract it says that I agree to take dictation from an audio file!) He chose three pink wines to review, two of which were French. The first of these was
Les Vignerons de Montblanc, Syrah Rose, Vin de Pays des Cotes de Thongue 2003
which he described as a
rose center with nice pink edges, watermelon candy nose, nice flavor intensity of light red berries, dry and refreshing
. The other, a
Cuvee Catherine, Rose d'Anjou 2002
, was
a bit bitter on the finish
. He noted
drink ASAP as the wine is past it's prime
.

Italy
Ha, ha ha!
You'll just have to go and see how Basic Juice eloquently shared his thoughts on
Tasca D'Almerita Rosé di Regaleali Rosato IGT, '02
with us.
The Cork Dork
ws unaware that they made good rosés in Italy. But then, thanks to WBW, he found the
Bardolino Chiaretto, Corte Gardoni 2003
and promptly bought 8 more bottles the next day. I am going to have to check it out!
New Zealand
Barbara of
winosandfoodies.com
based in Auckland, chose an
Esk Valley wine
for this tasting. She concluded it was
nice, but not as good as
her
favourite rosés from
her native
Western Australia
.
South Africa
Jeanne, our favourite
Cook Sister
living in London, shares a beautiful memory of rosé at her wedding which she tried to get hold of for this tasting too. Unfortunately she couldn't find it in the UK so she chose another SA wine, the pink pinotage
Flagstone Semaphore 2004 Rosé
instead. And what was her verdict?
It's no shrinking violet of a wine and was complemented by the food rather than overwhelmed by it
. She'll be stocking up on this one...
Spain
Andrew at
Spittoon
settled on Spain for his choice of
Bodegas Fariña Colegiata Young Rosé, 2003
which he tells us
is unsullied by any oak thus retaining its vibrant, fresh, colour, aroma and taste
.
United States
Find out why Bill from
WLW-WineGeek.com
calls
Van Duzer Vinyards' Pinot Noir Rosé 2004
an
unexpected experience
in his second rosé tasting for this WBW.
Chas from Austin opened up my eyes to Texan wine. On his
Wine Tasting
blog he tells the world that he'd
quaff more of
Spicewood Vineyards Rosé of Merlot 2004
,
(especially if it was cheaper!).
Jens Rosenkrantz Jr runs the
Cincinnati Wine Garage
. The
Vinum Cellars, Rose 2004
from Napa he critiqued was
thirst quenching and substantial
. Jens is doing a blind rose tasting this week and promises to report on that soon too.
2004 Core Santa Barbara Rosé
is a second tasting choice of our
Budget Sommelier
. More highly priced than their budget usually allows, Jerome found it
nice and dry
, but he also found it to be
a bit overwhelming
. Jerome also kindly shares his favorite pink Sangria recipe with us.

The aroma is very fruity with a bubble gum or cotton candy character to it
. What are
Vivi's Wine Journal
describing?
Tablas Creek 2002 Rosé
(Paso Robles), of course. This was also the choice of
Purple Sunshine
, a blog that grew from a wine tasting club in New Orleans. They
pretty much dug this wine and would give it, say, 15 on a scale of 20.
Alica at
My Adventures in The Breadbox
was recently in San Fracisco. Instead of stopping by to say hi to me, she wisely went to Napa where she picked up a bottle of
2003 Ancient Vines Rosado
. Unfortunately, she didn't like it and admits
this bottle may last quite a while in the fridge
.

2004 Robert Sinskey Vin Gris of Pinot Noi
r was the choice of
This Heaven Gives Me Migraine.
He tells us
it's got a fairly uncomplicated nose of toast and strawberries, with hints of grapefruit and some white flowers like jasmine.
Over at
Carolyn Tillie's Ultimate California Wine Blog,
the hostess samples a
2004 Saintsbury Vin de Gris of Pinot Noir
. Her description,
the distinct flavors were almost as illusive as the aromas, however the strawberry pronounced itself with delicacy and charisma,
hit the nail on the head for me. That's exactly how I found my
own Rosé
to be, without finding such an eloquent sentence to describe it.
Although
Snackish
Sue was revolted by her
glowing nuclear pink
White Merlot by J.W. Morris
whose
cherry cough syrup taste made
[her]
gag
, but she was so inspired by the actual assignment, she has started a blog dedicated solely to pink wines. Check it out at
Queen of Roses
.
WBW's founder,
Lenndevours
likes to choose a Long Island wine for this meme whenever possible. Lenn tells us that the
Wolffer Estate Vineyards in Sagaponack 2004 Rosé
he got his hands on is
one of the best Rosés not only on the Island but that
[he tastes]
period
.
Our podcaster,
Tim's
third pink wine review was of
Toad Hollow Vineyards, "Eye of the Toad", Dry Pinot Noir Rosé 2004
. This was his favourite, which he describes thus:
clear pink, beautiful strawberry/watermelon nose, strawberry/cherry fruit, bone dry, nice finish
.
Mezzaluna
went to the trouble fo doing quite some research before heading to the store. When she got there she found her choice limited. She ended up with a bottle of
Thirsty Lizard White Shiraz 2004
which had
an aftertaste that reminded
[her]
of Dove chocolate
.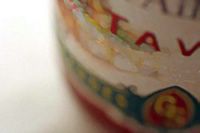 Footnote
My own
Rosé tasting
remains a mystery at this moment in time. Guessing which wine I tasted is part of a quiz to win a $60 Amazon voucher. Check back at
this site
tomorrow for details of how to enter.
With huge thanks to everyone who took part and then waited very, very patiently for me to round up all of the entries. Before you rush to host your own WBW, pause, and reflect on this little fact. This post took me no less than 8 hours to prepare. It's a committment, for sure, but one that I hope you agree was definitely worth it in the end. If you don't agree, I am coming after you with a big stick...

posted in wbw and Wine

a-Ring-a-Ring-of-Rosés