Bay Area Blogger of the week #6 Epicurean Debauchery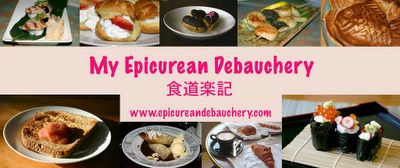 This week, please go and
visit Alice at Epicurean Debauchery
. She has just returned to the Bay Area from a short trip to Japan and has some great posts and pictures about her travels lined up. Next weekend Alice is making a Japanese lunch for some friends using some of the hard-to-come-by-in-these-parts products she brought back to the Bay Area with her. Despite a gracious invitation from Alice, unfortunately I won't be able to attend because I am going to an advance screening of the new Star Wars movie instead. Hopefully I'll be able to persuade Alice to cook for me another time.
Alice
once wrote
on a post that it was my blog that inspired her to start
Epicurean Debauchery
. This makes me feel both both very honoured and very responsible. After all Food blogging is hard work and I am not sure I want to be the person to put that upon anyone. But Alice, one of the most prolific food bloggers I have come across, seems to enjoy her new hobby (I know how that feels) and she has dived head first into the food blogging community, taking part in just about
all
of
the
online
events
.
Finish your study of Alice, today, by reading this wonderful
little story
about how Alice was discovered by another of my favourite local food bloggers, the inimitable
Molly
. Bay Area Blogger of the week #6 Epicurean Debauchery