Roe
for D's very special Birthday Dinner...
651 Howard St. (at Hawthorne Lane), San Francisco; (415) 227-0288
Click here to view the Roe website
The Birthday girl, D, was looking for a sushi fusion place to hold a special celebration meal with her closest friends. She wanted somewhere with a party atmosphere, sushi and other dishes that non-fish eaters would enjoy. By random chance I had read about a new place, Roe, which seemed to fit the bill perfectly. We had read some 'not so good reviews' as well as some excellent ones so we decided to keep an open mind and be optimistic that the restaurant would deliver both food and fun. We reserved about a week ahead and had no problem securing a table for 16 people, on a Thursday, at prime time 8.30pm. This was probably due to the fact that the restaurant was so new with little written about yet, and it therefore hadn't made its mark on the San Francisco restaurant-goers map.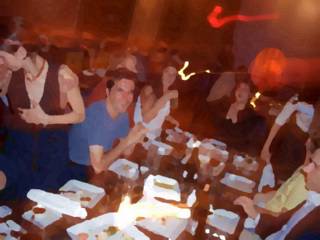 When I made the reservation they tried to persuade me to order in advance, for the whole table, as we were such a large party. I politely declined and resisted the pressure, realising that when people are going out to a new place to eat, they want to be able to select whatever they fancy on the night, especially when they are going to be paying top dollar for it.
I told everyone to meet in the bar upstairs which, if the website was to believed, was supposed to have a live DJ. In fact, the upstairs bar was as dead as a dodo, but the downstairs bar, facing the diners, was even more convenient (it didn't involve a hike up the stairs). The red brick walls were offset with swathes of gold and the setting was certainly reflective of the creative prices on the menu. I don't recall any live jazz in the downstairs area which, again, if the website was to be believed, was reportedly a feature. Maybe the live music is something they keep for weekends. The greeting staff and the bar staff, in fact all staff, were extremely friendly, welcoming and patient throughout the evening. We spent the first 45 minutes or so, whilst everyone was arriving, propping up the bar and sampling the exotic martinis. I started with a "Rasberry Chi" (I wasn't sure if they left out the 'p' for some kind of effect.) which I loved because the raspberry puree base was sharp and fresh. I couldn't actually taste any alcohol, but in retrospect*, it was probably fairly strong. [*more details follow later]. I also tested another cocktail that the bartender warned me had a very strong rose flavour. I didn't mind, because I love rose flavour, until I actually tasted the martini, in which I could barely detect a trace of rose. I kicked myself that I hadn't stuck with what I knew to be good and taken another of the raspberry concoctions instead.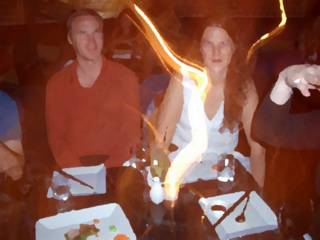 The staff had got wind of the fact that D was the Birthday girl, and even though it was me who had made the reservation and already told them we didn't want to order in advance, they tried it on again with D, suggesting she ordered the appetizers for the entire table as she waited for her friends to arrive. Luckily she had been primed by me about this request so again they had a polite refusal.
Once we were seated, however, our waiter showed no signs of upset that we hadn't already ordered as he very calmly, patiently and in good humour made his way around the large rectangular table to take our requests for wine and appetizers. MB, who is always burdened with the task of choosing our wine, was disturbed to find that most of the wines were heavy - Zins and Cabs that she didn't feel would partner the lighter predominantly seafood menu very well. By way of a compromise she ordered one each of a Syrah, a sauvignon Blanc, and I think a Shiraz, but I could be mistaken, to get us going (well, actually, the cocktails had already got us going but I guess we were on a roll by this time). One of the first bottles of red to come out was clearly corked and the waiter showed no hesitation in agreeing with us and promptly returned with a fresh replacement.
As the wine flowed, my memory got hazier and hazier, everyone seemed to be overly enjoying themselves and time felt like a drop of oil suspended in water. Gradually, dozens of appetizers arrived. Communication with the distant other end of the table had been difficult and whilst everyone at my end seemed to have ordered just one each, I am certain that those at the other end had been a little more hungry than we were. Not to worry, this food was made for sharing. Well, not strictly true. My duck appetizer on a bed of sticky rice with a delicious sauce I shamefully can't recall the flavour of other than to remember I specifically enjoyed it, I didn't want to share with a soul, except F, with whom I'll share anything and everything. F himself, doesn't eat any fish or seafood so he'd ordered some beef samosas. Considering he was not inclined to be picking food off of other peoples' fish-centric plates he also didn't want to share (except with me who had traded him some duck). This didn't stop a few gannets diving in for a taste of the large, flamboyant, delicately spiced morsels sitting on his plate.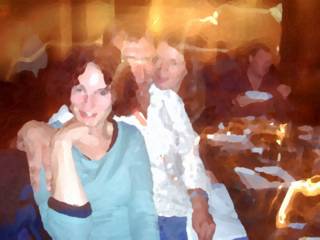 The other end of the table had ordered too much, so some of their plates were passed our way for our delectation. [Do I look like a dustbin??] I wasn't sure what I was trying, exactly, but the assortment of mouthfuls of sushi rolls and the like, made no impression on me other than "chewy, sticky, rice"
For my main course, I ordered two more appetizers because I am the kind of girl who likes to try several smaller tastes rather than a large heavy entree. I ordered the lobster bisque and a hamachi sashimi dish. The bisque was good in so much as I really happen to like coconut milk with thai-style spices - which is exactly what I got. Oh yes - there was actually a mouthful or two of lobster in it, as I recall it was tender and well textured, but considering it was not given the chance to add any extra subtle flavours to the rich soup or shine as a star in it's own right, I wasn't impressed with the $15 or so price tag on this particular dish.
The hamachi was awful. I am well aware that raw fish should not be served ice cold, but serving it at room temperature when room temperature is too hot, is equally a no-no in my book. It had lost it's freshness and because of it's warmth, the hamachi's usually desirable buttery flavour had developed a richness that was too much to take. Very disappointing.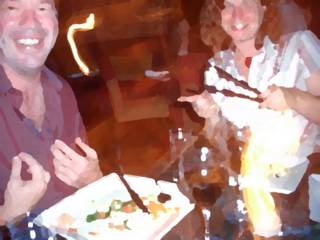 F ordered a steak. He said it was passable enough, but couldn't stop muttering that for the price ($32 as I recall), he expected something outsanding. There are many places in town that serve very decent steaks for a lot less money. F felt that for Roe to charge top prices for their meat, they should at least make it memorable.
The staff really were great. Even though D had mysteriously disappeared, they still brought out a complimentary, candle-topped dessert for everyone to share. By this time, however, I was beaten. My recent strict dieting (all I'd had for lunch was a small bowl of soup), meant that my usual ability to be able to drink without too much of a side effect had left me and I needed to go home. The bill certainly wasn't cheap even bearing in mind we were comping the Birthday girl, although amongst 15 that didn't amount to too much. I was a little shocked at the prices until a few sobre days later I met with some of the friends from that evening who explained that we'd had nearly a bottle of wine per person. Ahh! That explains a lot - especially the sore head I had the next morning...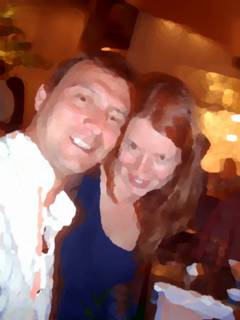 Roe