Greek Feast
...a dinner party in a celebration of the Olympics.

On Saturday I was up bright and early with a slightly foggy head. But I had to get on do the shopping for tonight's dinner party. There was a lot to do. First of all, shopping list in hand, I legged it down to the San Francisco Ferry Building to see what fresh produce I could pick up there at the Farmers Market. I picked up a couple of 1lb Early Girl "sauce" tomatoes for just a dollar per bag. At another vendor, where all the veggies were $2 a pound, I selected a mixture of shiny bell peppers in less ordinary colours (black, pale yellow and pale green), plump little cucumbers and some great little knobbly 'almost-roma-shaped' tomatoes that I determined would be the best type to use in the Greek salad I would be preparing later.
Behind the Ferry building the sound of an Englishman's accent lured me to his stall, selling a great variety of mainly salad leaves. He had some wonderful looking spinach - a mix of a crinkly heavy dark green leaf and a deep red spinach too. It wasn't cheap, at $6 a lb, but I decided it would make a far more interesting filling for my Spanakopita than regular standard spinach.


In keeping with the colours of the Greek flag, blue and white, I treated myself to a bunch of "Love in the Mist" that I would use as a centrepiece on the dinner table.

A trip to Costco and Wholefoods later, I finally got back home at about 1.30pm with all the ingredients I needed to make the dinner, and not many hours to prepare it in. I set to work immediately. Over a week earlier I had already asked Chowhounders for advice on choosing my menu for the evening.


The first recipe suggested to me, for Fava Bean Salata, had already been started by me a couple of days earlier. I am not a stickler for recipes and prefer to use them as a loose guide and cook with my feelings instead. (Unless the recipe calls for accuracy as in breads, pastries, etc). I had been unable to find butter beans, in a can or otherwise. I did find some dried fava beans but they were incredibly expensive so I decided to use Lima Beans instead which I bought loose, soaked over night, then cooked for 90 minutes before using in the recipe. Everyone loved this dip which I served with warm pitta and crudities.


I also prepared some Spanakopita, This taught me a lesson: Filo Pastry needs to defrost 8 hours in the fridge before use. Duh - I had no idea, I didn't have 8 hours either. I had to carefully defrost the roll of pastry in the microwave being mindful not to let it get at all hot. This method just about worked, but in places the sheets did get stuck to each other which was frustrating. Despite losing my patience with the pastry I eventually managed to assemble the pie which turned out to be delicious, especially with the less common spinach varieties I'd used that tasted more flavourful and looked pretty too with the red spinach giving the feta a slight pink tinge.
The recipe I used for my Spanakopita


The whole of the Greek Feast I was preparing was vegetarian, with the exception of Yuvetsi, a lamb casserole with orzo (tiny rice-shaped pasta). I could only just fit all the ingredients in my Le Creuset. The Yuvetsi Recipe I used can be found here.


I didn't follow any recipe for the Greek Salad. I used my Farmers Market tomatoes, a pink torpedo onion, and cucumbers plus feta, pitted kalamata olives from Wholefoods, fresh oregano and a simple dressing of Greek olive oil and vinegar.



Dinner is served

A million thanks to P, who not only made Tzatziki (cucumber and yoghurt) and a delicious smoked aubergine dip, but also donned a toga and hastily assembled me a Greek-style head dress from rosemary sprigs.



The Yuvetsi is served.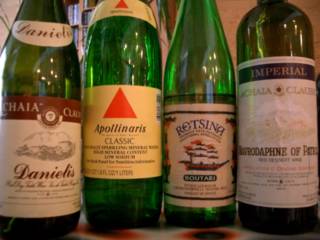 Greek wines we tried. The red dry table wine was ok. (At least the bottle was empty). The Retsina was laughably unpopular. It was the first bottle opened, and there is still half left. We have decided to keep it as an antidote. Next time someone spills red wine on themselves we're going to douse them with Retsina. Not only will it remove the stain - it's going to have a great fresh, pine scent too!
The water is actually German, but hey - the bottle

looks

Greek, doesn't it?

Finally, we tried a Greek red dessert wine, which I also used to poach some Farmers Market figs, along with a little acacia honey, cloves and cinnamon bark for dessert. I served the figs with Greek sheep and goats milk yoghurt drizzled in the honey.




Nineteen friends, in total, feasted on the Greek meal as they watched some Olympian track and field events in HD. Final thanks to everyone who joined us and to MB for sharing the family heirloom - a bottle of Greek 'moonshine' (sweet, port-like, quite delicious) made by her brother who since his marriage to a Greek, has learnt his wife's secret family recipe.


Greek Feast